4×4 IBERIAN KING
THE MOST EXTREME RACE OF THE YEAR
A new scoring event, "LES COMES 4X4 EXTREM" will be held on the 27th, 28th and 29th of March. The event is one of the races that complete the 4×4 Iberian King championship.
A race available for all type of vehicles, not only for UTV's or extreme prototypes, but also for any vehicle derived from series!
If you love the 4X4 family and want to feel the adrenaline of participating in a spectacular race, please check the following link: LES COMES 4X4 EXTREM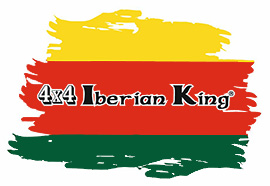 IF YOU WANT TO SEE THESE VEHICLES IN ACTION, DON'T MISS THE EXHIBITION WE WILL DO ON SATURDAY AND SUNDAY AT THE COMES 4X4 FESTIVAL 2020!
EXTREME TEST
Climbs, dizzying descents, sections to show the nerve of the vehicle and other sections where the skills of the teams will be the ones that make the difference.
REGULATIONS
Learn about the technical regulations and sports regulations of the test: admitted vehicles, safety, prizes and much more information needed to sign up for our event.
A RACE FOR ALL TYPES OF VEHICLES

START THE COUNTDOWN BEHIND THE CHAMPIONSHIP